Baby Powder Soap ~ Goat's Milk Soap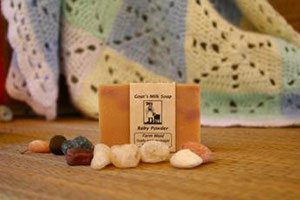 Baby Powder Goat's Milk Soap
Our Baby Powder Soap is true to that first, gentle scent ever put on baby! Just like J&J's baby powder. 
Light tan with pink & blue swirls. 
We make our Baby Powder soap in small batches with saponifed food quality soybean oil, coconut oil, goat's milk, palm oil. May contain, water, herbs, essential oils, botanicals, fragrance, cottonseed oil, honey, sea salt, mineral colorants.
Weighed at least 3.5oz when cut.
Available
Free Priority Mail Shipping available with $30 purchase.*1