Musk Soap ~ Goat's Milk Soap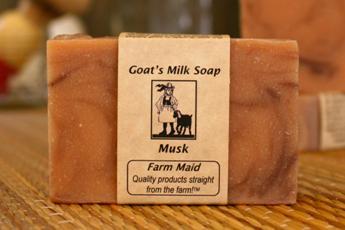 Musk Goat's Milk Soap
A smooth rich musk. Not heavy with a touch of a powdery note. Many people who "don't like musk" like our Musk Goat Milk Soap. 
Light tan with brown swirls.

Our Musk Goat's Milk Soap is made in small batches with saponifed food quality soybean oil, coconut oil, goat's milk, palm oil. May contain, water, herbs, essential oils, botanicals, fragrance, cottonseed oil, honey, sea salt, mineral colorants.
Weighed at least 3.5oz when cut.
Currently out of stock. Please email for availability