Oatmeal & Honey Soap ~ Goat's Milk Soap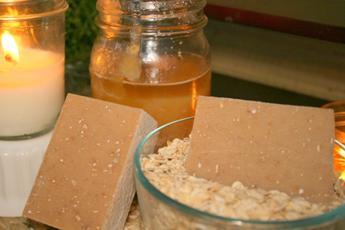 Oatmeal & Honey Goat's Milk Soap ~ All Natural
We start with pure raw honey and then grind Bob's Red Mill Gluten-Free Oats right into the bar to create an incredibly soothing and gentle bar.  The oats also provide great exfoliation.
Tan with ground oats.
Oatmeal & Honey Goat's Milk Soap is made in small batches with saponifed food quality soybean oil, coconut oil, goat's milk, palm oil, gluten-free oats. May contain, water, herbs, essential oils, botanicals, cottonseed oil, honey, sea salt, mineral colorants.
Weighed at least 3.5oz when cut.
Available
Free Priority Mail Shipping available with $30 purchase.*1