Santa's Pipe Soap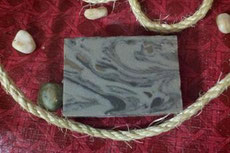 Santa's Pipe ~ Goat's Milk Soap
Santa's Pipe has Cherry Tobacco and a hint of Old Spicey cologne. Brings back memories of sitting on Santa's knee while giving your Christmas wish list. Many guys love this soap and it is Farm Maid's 7-year old's favorite soap!
Grey with black and brown swirls.
Our Grampa's Pipe soap is made in small batches with saponifed food quality soybean oil, coconut oil, goat's milk, palm oil. May contain, water, herbs, essential oils, botanicals, fragrance, cottonseed oil, honey, sea salt, mineral colorants.

Weighed at least 3.5 oz when cut.

Available
Free Priority Mail Shipping available with $30 purchase.*1