Spiced Cranberry Soap ~ Goat's Milk Soap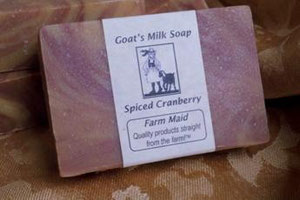 Spiced Cranberry ~ Goat's Milk Soap
A classic holiday scent! A refreshing blend of cranberry, mandarin orange zest, warm cinnamon, spicy clove, nutmeg, and a hint of ginger. Just smelling it warms you up on a cold day.
Solid tan with burgandy swirls. Seasonal.
Our Spiced Cranberry Goat Milk Soap is made in small batches with saponifed food quality soybean oil, coconut oil, goat's milk, palm oil. May contain, water, herbs, essential oils, botanicals, fragrance, cottonseed oil, honey, sea salt, mineral colorants.

Weighed at least 3.5 oz when cut
Currently out of stock. Please email for availability